Welcome to the South Hills Catholic High Class Of 1963 web site. Do you remember the Chapel window?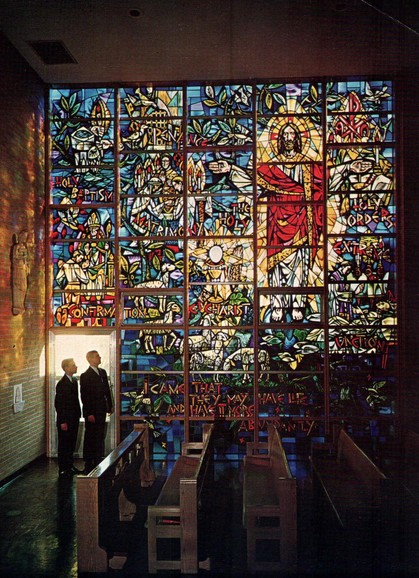 Don't forget that we still need photos from you! We will be posting photos on the website, as well as using them in our Memory Book so please be sure to get us those photos etc.
Reminder:
Please ensure to keep your profile information updated, especially your email address.
This website will be a way to reach you with regards to reunion planning.
Thank you!
---
---
South Hills Catholic Alma Mater
The Alma Mater is our school's official song. Most reunions begin with everyone singing the Alma Mater. Once the sheet music is rounded up and the music starts playing; we must be ready.
Note: Alma Mater from Latin, meaning "nurturing mother."
---
Coat of Arms
Our school's Coat of Arms is displayed on the wall near the entrance to the auditorium. The motto, Servio in Envagelio is mentioned more than once in the writings of St. Paul and means "I serve [minister] in the Gospel". It was also the episcopal motto of John Francis Dearden, the Bishop of Pittsburgh from 1950 to 1958 during the years South Hills Catholic High School materialized.
---
---
Contact a Classmate

If you want to contact a classmate, go to Classmate Profiles on menu bar. Find the classmates name and click on it. At the bottom of their profile is a choice of, send a private message or leave a comment. If you choose, send them a message, no one else sees it but them.
---
Honor the Memory of Our Classmate

Please take a few minutes to visit the IN MEMORY page. Honor the memories of our classmates, who are no longer with us, by adding your thoughts or personal stories under the obituaries of the people you knew. If you are aware of the deceased military service please contact us.
---
Number Of Times People Have Visited Our Home Page To Date
(only one visit per day per person is counted)
- 36,683 -
---